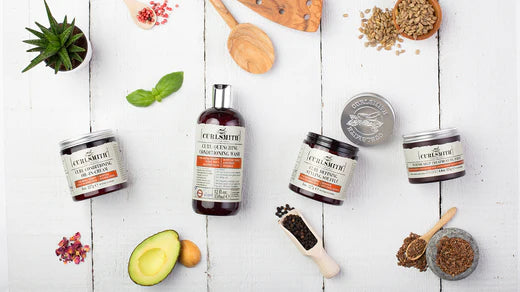 Curlsmith didn't always make hair products. We actually started life as a community of curlies on Instagram and YouTube, sharing tips, tricks, tutorials and natural haircare recipes.
Our community showed us that while having naturally curly hair is a source of great pride and confidence, taking care of it can be complicated, confusing and hard work!
Inspired by the 'healthy hair' transformations of our curlfriends, we saw there's no such thing as 'bad hair' – everyone can love the hair they have, with the right care.
After countless requests from our followers, and to the delight of our curly friends and family, we decided to launch our own product line. Our mission - to inspire curl confidence in everyone, by creating the world's best performing 'clean' curl care products and educating on the best techniques to enhance all hair textures.
We wanted to create professional grade formulas that didn't compromise on hair health, or ethics. Curlsmith will always be Vegan, Cruelty Free and 'Curly Girl Friendly' – made with all the ingredients curls love (like delicious superfoods), and none of the stuff they hate (like silicones, sulphates and parabens). You can read more about the Curlsmith family values here.
Curlsmith is still a collective enterprise. From the get-go, everything was created for, and with, curlfriends, experts and influencers around the world. We rigorously test our recipes on curly haired friends and family, never on animals. And we share real results from real Curlsmith customers, un-retouched, in our ads ad content.
Curlsmith always stays true to our Curl Confidence mission. We are here to take the guesswork out of curly hair care, help you understand your unique hair needs, unlock your true texture and perfect your hair care routine.
Ready to love the hair you have? Not sure where to start? Take our curl quiz now.