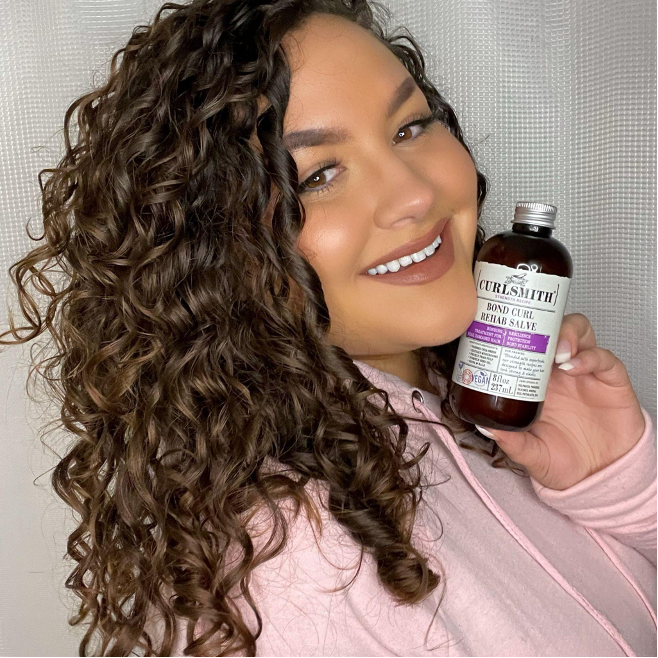 Introducing our Bond Curl Rehab Salve, a hero product for curly hair clinically proven to reduce damage so your hair feels soft, hydrated, and healthier looking. The pre-poo treatment targets three hair bonds within the hair structure helping to repair and strengthen your curls. Regardless of your hair type rest assured you will experience the exceptional benefits from our number one strengthening treatment. 
The following article will inform you about the advantages of pre-poo and why our Bond Curl Rehab Salve belongs in your hair care routine. 
What Is A Pre-poo Treatment? 
For those curl friends unfamiliar with the wonders of a Pre-poo, let's unravel the secret. A Pre-poo is where you treat your tresses before the shampooing process. A special treatment that offers many advantages such as moisturizing, nourishing, protecting, and strengthening your curls. While Bond Curl primarily focuses on strengthening, noteworthy ingredients such as sweet almond oil, known to be an excellent emollient that softens and nourishes the hair, resulting in a smooth texture.  
What Is So Unique About Bond Curl? 
There are many strengthening pre-poo treatments on the market, Bond Curl emerges as a stand-out, crafted with a focus on the unique needs of curly hair while targeting all three hair bonds. Say goodbye to scrutinizing ingredient lists, as Curlsmith is a trusted brand that uses known curl-friendly ingredients and avoids ingredients such as silicones, phthalates, parabens, minerals, and drying oils. 
Who Is Bond Curl For? 
Bond Curl works wonders for all hair types, especially those with high-porosity hair aspiring to fortify their strands. Its universal appeal lies in the fact that we all require protein to maintain protein-moisture balance. The only variation lies in the frequency of applications tailored to individual needs.  
What Are the Key Ingredients?  
Our products always use curl-loving ingredients, and Bond Curl is no exception with a protein rich formula designed to rebalance your needs.  Our key ingredients include a unique triple active blend containing Chia Seed extract and Radish Root ingredients known for their strengthening properties. In addition, this formulation includes sweet almond seed oil, known to be an excellent emollient that softens and nourishes the hair, giving a smooth texture.  
Application 
Wet your hair thoroughly and apply a generous amount of product to your strands. Work it throughout your tresses section by section to ensure full saturation. Leave for a minimum of 15 minutes or medium to high porosity for 30 minutes. Then rinse thoroughly and follow with your chosen Curlsmith shampoo and conditioner. 
How often should I use Bond Curl? 
The frequency will vary from person to person. We recommend that those with low porosity use every 4-5 washes, medium porosity 3-4 washes, and high porosity every 2-3 washes. 
Am I at risk of protein overload if I use this product? 
As mentioned above, the frequency of use changes depending on your hair's porosity. However, as this product includes protein, you will risk protein overload if used excessively. In addition, we recommend adding moisture to your routine to maintain protein-moisture balance. 
How Soon Will I Start to See the Results From Using Bond Curl?
You will see a difference in your hair just after one use. However, we recommend that you keep using the treatment according to the guidelines of your porosity for the best results. If your hair is damaged and requires repairing, once your hair becomes stronger, you can reduce the frequency of use. 
Can I Use This On My Hair If I Have Had Color? 
Bond Curl Rehab Salve is great for those who have colored hair, although we recommend that you use it one week before or after your coloring service. Then, continue to use the treatment depending on your hair's porosity. 
Strengthen With Curlsmith 
The strength recipes are dedicated to strengthening your luscious locks. Our products are cruelty-free and vegan-friendly. If you want advice on what other products to use alongside your Bond Curl Rehab Salve, take the curl quiz to receive personalized recommendations. 
Source: based on third party data and independent user study on 120 volunteers on January 2021.