Introducing the New Anti-Frizz Recipe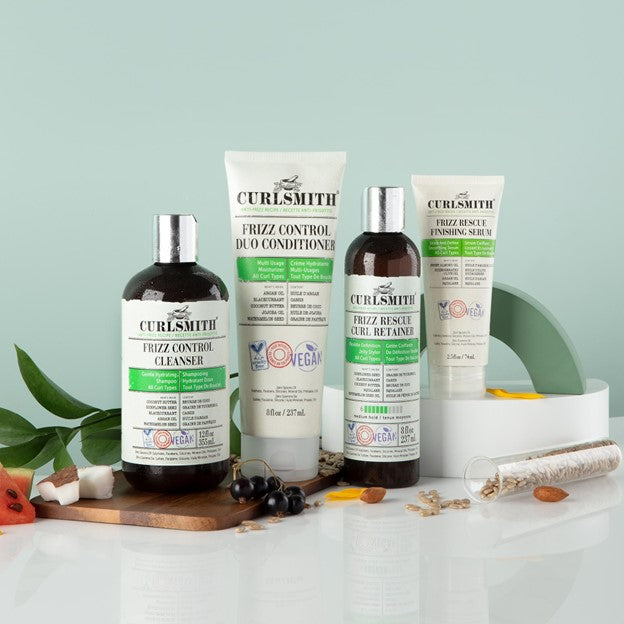 Frizzy curls are an issue most curl friends face; therefore, we have launched a new 4-piece collection of products that help to control frizz. The new assortment includes an advanced oil complex and nourishing blend to control frizz throughout your wash day routine.
The following blog will discuss how to achieve the best results for frizz control using the new Anti-Frizz Recipe and other key products depending on your curl type and texture. As we know, every head of curls differs, so keep reading to find the best routine to serve your needs but first of all, let's highlight some of the leading causes of frizz.
Introducing the New Frizz Control Recipe
Main Causes of Frizz In Curly Hair
How to Use the Anti-Frizz Recipe
How to Use the Frizz Control Cleanser
Steps 2 & 3- Condition & Moisturize
How to Use Frizz Control Duo Conditioner
How to Use the Frizz Rescue Curl Retainer
How to Use the Frizz Rescue Finishing Serum
Main Causes of Frizz In Curly Hair
Frizz in curly hair is primarily caused by a combination of factors related to hair structure, environmental conditions, and hair care practices. Here are some key factors that contribute to frizz in curly hair:
Hair Structure

Humidity

Lack of Moisture

Over-Manipulation 

Heat Styling

Harsh Hair Products

Sleeping Habits

Chemical Treatments
Adopting a hair care routine with the best products for frizzy hair to feed your tresses is essential to manage frizz in curly hair.
How to Use the Anti-Frizz Recipe
 Let's take a closer look at a wash day routine using the Anti-Frizz Recipe and other Curlsmith heroes to understand how to help get rid of frizzy hair.
Step 1 - Wash
Start by cleansing your tresses with our Frizz Control Cleanser to gently remove dirt and build-up without stripping the natural oils. This conditioning shampoo smooths the hair, helping prevent any unwanted frizz and leaving your tresses soft and manageable.
How to Use the Frizz Control Cleanser
Apply a generous dollop to your hands and work into your scalp. Scrub vigorously to provide a thorough cleanse. Rinse and repeat.
Steps 2 & 3- Condition & Moisturize
Condition your strands with our Duo action Frizz Rescue Conditioner that works as a rinse-out or a leave-in. The blend of nourishing ingredients replenish the hair's lipid content and forms a light film to seal the cuticle. This lightweight conditioner easily glides through strands making detangling effortless, creating long-lasting smoothness and shine. 
How to Use Frizz Control Duo Conditioner
As a conditioner, rake through your curls to ensure each one is evenly coated, detangle with your fingers or a brush, leave for 1-2 mins, and then rinse (can be left for longer if extra hydration is needed. As a leave-in, rake through freshly washed hair to detangle, smooth, and prime your curls ready for the styler.
For our curl friends with coarse textures, use our Curl Conditioning Oil Cream as a leave-in conditioner, following the duo Frizz Control Condition as a rinse-out. Alternatively, if your tresses are damaged, using our Multi-tasking Conditioner as a leave-in conditioner will help to strengthen your strands.
We also recommend deep conditioning once a week; therefore, incorporating one of our masks into your haircare routine is beneficial. Our Hydro Creme Soothing Mask is ideal for those with fine hair, Double Cream Deep Quencher for medium to coarse textures, and our Multi-tasking Conditioner for weak and damaged tresses.
Step 4- Styler
Once you have applied your leave-in conditioner, mist your hair with our Miracle Shield if you plan to use heat to dry your locks. This protein-rich lightweight mist will protect your tresses from heat up to 450 F. 
Now that you have conditioned and protected your tresses, your curls are ready for the styler. Ensure your curls are wet before applying (this is where your water mist comes in handy). 
Our Frizz Rescue Curl Retainer is a medium-hold jelly that defines without stickiness due to the unique trio oil blend. The curl reversion technology keeps your curls in place with resistance against frizz. The styler leaves a cast on the hair to set your curls as they dry. 
How to Use the Frizz Rescue Curl Retainer
Section your hair and apply a dollop of product to your hands, work this into your palms, and use the raking method to distribute the product evenly throughout the section. Follow with the styling technique depending on your desired results. Repeat this process until all your curls are styled.
As our Anti-Frizz Rescue Curl Retainer provides a medium hold, layer our Shine gel or In Shower Style Fixer for those with coarser textures or requiring a stronger hold.  
Step 5- Treat
Our Frizz Rescue Finishing Serum is the final step in your routine to smooth and add shine and definition to your tresses while reducing frizz by 65%. The trio blend of oil is also ideal for breaking the gel cast.
How to Use the Frizz Rescue Finishing Serum
It works best when applied to dry hair. A little goes a long way. Use a dime-sized amount on medium and coarser textures; for fine hair, use sparingly. Rub the products between your palms and smooth over your curls using the praying hand's method. Gently scrunch to break the cast and make your curls soft and bouncy. 
Frizz. Meet Your Match
To manage frizz in curly hair, eliminate common factors that cause frizz, and establish a curly hair care routine. Our Anti-Frizz Recipe provides your tresses with key ingredients to nourish your strands, control frizz, and define your curls. Our products only include curl-loving ingredients and leave out the ones they dislike, such as sulfates, silicones, parabens, and phthalates.